Domaine Carneros by Taittinger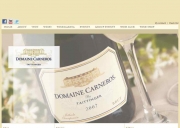 Featured

Domaine Carneros offers daytime or evening educational wine tours, wine blending seminars, and guided wine tastings.
Address:
1240 Duhig Rd.
Napa, CA 94559

Phone: 707.257.0101

Claim Listing
Does this Winery listing belong to you or your company?
Click here to claim this listing now.
Nearby Napa Wineries


Featured

For over thirty years, Acacia Winery has been creating a variety of specialty wines, including Chardonnays, Pinot Noirs, Sauvignon Blancs, and much more.


Featured

Artesa Winery offers a wide variety of winery experiences, from corporate receptions and dinners to wine blending seminars.


Featured

Located on the Silverado Trail, Chimney Rock Winery provides daily wine tours and tasting events.


Featured



Featured



Featured