Coit Tower on Telegraph Hill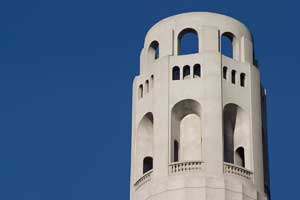 Coit Tower is one of the most recognizable structures of the San Francisco skyline. Like many famous landmarks in our fair city, this classic white concrete spire features an interesting history that involves an eccentric citizen and her love of the City by the Bay. Lillie Hitchcock Coit arrived in San Francisco as a child in 1851 when her father, an army doctor stationed at West Point, was transferred here. Legend has it that when she was 15 years old, Coit saw a team of firefighters struggling to haul a heavy engine up to a fire on top of Telegraph Hill. Seeing that the firefighters' strength was flagging, she ran out to the team, grabbed a rope and exhorted the weary men and nearby bystanders to pitch in and get the engine to the burning building.
Her spirit and enduring love for Knickerbocker Engine Company No. 5 inspired the firefighters to adopt her as the Company's mascot and an honorary member, and, in a few years, she had become the mascot and ardent supporter of all San Francisco firefighting companies. Coit was a wealthy woman, and, when she died in 1929, she bequeathed a large portion of her estate "for the purpose of adding to the beauty of the city I have always loved." City officials used some of the money to build Coit Tower and a monument to her beloved firefighters in Washington Square, both competed in 1933.
Today, Coit Tower is one of the city's more popular landmarks and affords a sweeping 360-degree view of the city, its iconic bridges and the Bay. An elevator takes visitors to the top of the 210-foot tall tower, and tickets are available in the gift shop located at the tower's entrance. Tickets are modestly priced at $5 for Bay Area residents and $7 for non-residents. The tower is open to the public seven days a week and closed on Thanksgiving Day, Christmas Day and New Year's Eve. From March through September, hours of operation are 10 a.m. to 5:30 p.m. and 9:00 a.m. to 4:30 p.m. from October through February.
Parking is quite limited, and visitors are strongly advised to take public transportation or walk to the landmark. The best course of action might be to take the #39 bus to the top and walk down Telegraph Hill to enjoy the lovely trails and the city's famous wild parrot population, featured in the 2005 film, "The Wild Parrots of Telegraph Hill."